Iranian Pop Icon, Googoosh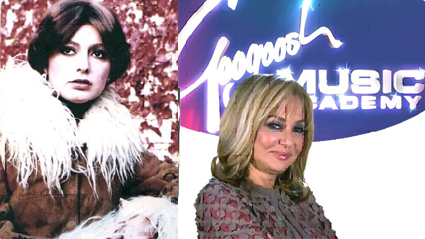 From her humble beginnings as a young girl trying to make it big in Tehran, Iran, to a sophisticated and highly noted Iranian Pop Icon, Googoosh is now headlining her own talent search show for young Persians striving for the exact same thing she once did.
Every week at the Googoosh Music Academy, young hopefuls compete for their chance to be the next big Persian recording artist. And who better to be trained by than the lovely and multi-talented Googoosh herself? 
Having starred in 30 films since the 1960's before setting sail on her adventurous singing career, Googoosh stepped out into the world of performance at age three. This strong Persian woman has nothing but experience and wisdom under her belt. Our Iranian-born mothers have most likely met her and grew up with her films, and our grandmothers witnessed her blossoming from an ambitious, fame-stricken young girl to a multi-faceted and well-rounded influential woman.
She gives hope to all young talents out there that they too can achieve all of their goals and dreams with hard work and dedication (it doesn't hurt to have a coach like her either!). With Persian women like Googoosh walking amongst us, I am proud to be Persian too!